UUF Mendocino Home > Spirituality Essays > Good Morning


Unitarian Universalist Fellowship of the Mendocino Coast

Spirituality Essay:

Good Morning ( November 2010 )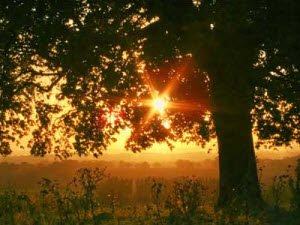 How do you start your day? My small sample says almost all of us get up and fall into the routines that comprise most of our daily lives.
In our recent "Yoga ... To Change Your Day" service, we looked at the idea of taking a few minutes, before jumping into the day, to do some deep breathing and stretching exercises to create a spiritual foundation for a better day.
It's so easy, isn't it, to just get up and propel ourselves into our day's activities. The push to get busy and start accomplishing is so strong. But whether it's yoga or some other spiritual practice, taking a few minutes to center ourselves and create a more spiritual connection with our upcoming day will not only make the day seem that much more smooth and meaningful, but, in all likelihood, actually be better as well.
There are a whole host of practices people have found helpful for "setting up" their day ... but the underlying element is taking time to (quietly and with intention) reconnect with their spiritual essence and reaffirm their place and direction in life. Among them:
Reading religious/spiritual passages to focus on and be inspired by during the day.


Doing several minutes of yoga and/or gentle stretches, deep breathing (3 deep breaths) in each position.


Meditating (and/or praying) - sitting still, quieting the mind, feeling your breath and your body.


Setting an intention - and tone - for the day ... in that space of quiet and attentiveness, establishing a consciousness for how you want to move through the day, what you want, generally, to happen ... done in a meditative space (verbalized with gentle sentences that begin with, "May I...", or "May I be ...").


If you have spiritual or general goals for yourself, reaffirming them in your morning quietude. A friend, for example, who creates different weekly goals for himself (like making sure he daily gets out into nature for renewal time; listening more attentively; not multi-tasking, etc.more on this in a future column) reaffirms his intention every morning.


I remember Ted Koppel's Tuesdays with Morrie TV series, and all the delightful, visceral wisdom he shared with us. If you saw it, you may recall that wonderful line of appreciation Morrie offered in his waning days just before death: "I go to sleep wondering if there'll be another day for me tomorrow. But when my eyes pop open, I realize how lucky I am."
It's so natural to take our being alive and having another day to do with as we wish for granted. But consider taking a moment every so often in your morning spiritual work to reflect on this most-precious, but most taken-for-granted gift: the gift of life and all the large and little pleasures that inevitably unroll out for us each day. For indeed, someday they will no longer happen.
Many say their morning spiritual time is their most wonderful time of the day. It's not just that they come out of it feeling so much better and more alive, but that the rest of the day flows more effortlessly and beautifully - and brings a richer, "Yes, life is good," quality to everything.

This is one in a series of essays on spirituality by Rick Childs, lay leader of the Unitarian Universalist Fellowship of the Mendocino Coast. You may want to:
Read more Spirituality Essays
Read more about Rick Childs or send e-mail to:
Read more about the Unitarian Universalist Fellowship of the Mendocino Coast.

Questions about Unitarian Universalism? Ask Rick Childs,

Questions about our web site? Ask Ted Pack: