Unitarian Universalist Fellowship of the Mendocino Coast

Spirituality Essays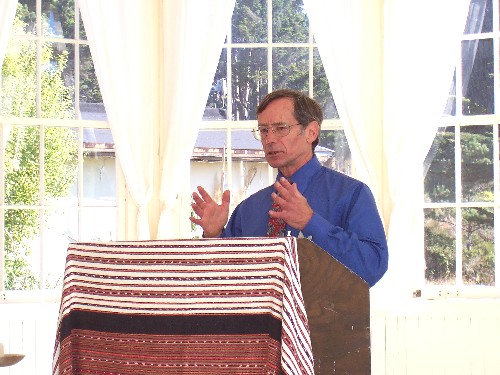 Rick Childs Giving a Sermon.
These are essays on spirituality that Rick Childs, our lay leader from 2002 until 2011, wrote for our newsletter. Read more about Rick Childs.
Life's Good Things (June 2011)
If you spend 10 - 20 minutes every day concentrating on something small that gives you pleasure - fully concentrating on it, enjoying it and it alone - you'll find that pleasure acts as a spiritual tailwind, to make the rest of your day easier and more enjoyable.
Things You'll Never See (May 2011)
When I was building my house, my builder told me something that's stayed with me for 22 years now: "There are things that you'll never see that are in your house."
Things like more nails than required by the building code; stronger bracing where he thought it would help, should a bad earthquake hit; and the smallest possible holes in the wall studs for the wires, so as not to compromise the stud's strength, even though it made feeding the wires through them rather difficult. You can learn a lot from carpenters.
What's the Payoff? (April 2011)
We might ask, "What would my life look like if I ... (fill in the blank: were always on time; didn't always need to be so busy; stopped trying to control everything, etc.)?" as another way to ferret out what's really driving our behaviors.
Win - Win (March 2011)
How to make difficult decisions, and how to be sure you make the right choice.
Meditation, Part 3 (February 2011)
This is the third of three essays on meditation ... an in-depth exploration of the "black box" of the meditation process: just how and why it works.
Meditation, Part 2 (January 2011)
This is the second of three essays. It tells you the physical and mental benefits of meditating on a regular basis.
Meditation, Part 1 (December 2010)
This is the first of three essays. This one explores the ABC's of meditation, how it's practiced, and what one might experience meditating.
Good Morning (November 2010)
If you spend a few minutes every morning to reflect, meditate or center yourself, you'll find it helps you for the rest of the day.
Service (October 2010)
Grand in scope, service is, at its core, the conscious effort we undertake to better the lives of others; our friends, our counrymen and women, those on our planet. Service is at the heart of all religion. Rick suggests we make it a spiritual practice.
Adagio Moments (June 2010)
If you slow down - "let time go limp" every once in a while, you may attain some spiritual insights.
Working Vacations (May 2010)
You can spend two weeks at the beach and come back with nothing more than a sunburn; or, spend two weeks helping to make the world a better place and come back with a deep sense of satisfaction.
Do Overs (April 2010)
Giving yourself a "Do Over" can sometimes turn mistakes into transformative growth.
Legacies (March 2010)
What will we leave behind, in goods and in the memories of those who knew us?
Passion (February 2010)
Such a wonderful thing to have - and to feel. So invigorating, so rewarding - so making-life-so-alive-and-worth-living! We all have people and interests and things we care about - but when we feel passionately about them, we feel an energy surge and pleasure from deep within. What are you passionate about?
Giving (December 2009)
How can we rise to that wonderful spirit and beauty of true, meaningful giving? It's certainly hard, given the sheer weight of the holiday ... but we can make inroads.
I Deserve (November 2009)
Rick Childs meditates on the phrase 'I Deserve'; can we accept things gratefully - and gracefully?
The Gratitude Cycle (October 2009)
The spiritual rewards of taking a moment to reflect on the things you are grateful for, every day.
Stuck in the Past (September 2009)
"My summer in Palestine was one of the most interesting and challenging - but also instructive - experiences I've had in my life. So many facets and dimensions of life I wouldn't otherwise be aware of pushed their way into the foreground of life and my consciousness...
Palestine (June 2009)
Rick writes about his hopes and fears for his summer in the West Bank.
Observation Meditation (May 2009)
A short lesson in Zen meditation, and its benefits.
Mumford (April 2009)
Rick uses the sleeper hit "Mumford" as an example of self acceptance. Some of the ways we show love for ourselves include: recognizing and valuing our positive qualities, forgiving ourselves of past mistakes and shortcomings, nurturing ourselves ... and respecting and accepting ourselves.
Facing Our Mortality (March 2009)
An essay about facing the inevitable with courage, dignity and grace, with some practical advice, too.
Reaching Out (February 2009)
Rick writes about the spiritual message in Barack Obama's innauguration ceremony, and the message of diversity it sent - even if we don't want to be that diverse. How many conservative republicans do you know?
Esse - an essay on being (January 2009)
Rick meditates on "Esse", a popular crossword puzzle word, which is Latin for "being", and the Buddhist goal of being here, now.
Antidote for Economic Malaise (December 2008)
Rick proposes generosity as a solution to today's economic problems.
Art Johnson's Message Today (November 2008):
Art Johnson has passed on. His message lives, however; that We Unitarian Universalists need to be here ... as a sanctuary for all those in the community who'll be looking for comfort, support, and liberal spiritual values. We offer a beacon of light in dark times.
Message from Knoxville (October 2008):
Rick continues to explore the Knoxville shootings. The man who did it was in deep pain. There may be others, whose pain we can ease a bit, if we try.
It Is (September 2008):
In the wake of the Tennessee shootings, Rick begins an exploration of why bad things happen. It isn't fair, it isn't right, it isn't just; but it has happened. It is.
Let the sun Shine In (June 2008):
Summer brings more sun to us - and allows us to contemplate our connection to the most basic force in our world.
UU and You (May 2008):
The value of having a UU symbol around the house.
Physical Spirituality (April 2008):
Living and celebrating a robust physical life as a spiritual practice.
Need a Penny . . . Leave a Penny (March 2008):
Lessons from a penny tray.
Voices in Our Heads (February 2008):
Overcoming negative self-impressions. (2 of 2).
Voices in Our Heads (January 2008):
Overcoming negative self-impressions. (1 of 2).
The Holiday Season (December 2007):
Adjusting your expectations around the Holiday season.
Your Spiritual Journey (November 2007):
Drawing a map of your spiritual journey as a way of understanding where you are, and how you got there.
I Can't Move Mountains (October 2007):
Reflections on the Muslim saying about mountains and wheelbarrows.
Loving Yourself (September 2007):
Attaining a positive self image.
Travel (June 2007):
Spiritual lessons gained as you see other lands and meet other people.
Nature-Spirituality Nurturance (May 2007):
Opening deeper connections with Nature.
Honoring With Your Feet (April, 2007):
A new way to look at attendance.
Darkness (March 2007):
Spiritual lessons from the dark side of human existence.
Dark Sides (February 2007):
Musings about faults and failings at an awards ceremony.
Santa ( December 2006):
Reflections on a real-life Santa Claus.
Optimism (November 2006):
How looking on the bright side can make you feel better.
Unitarian Universalist Theology (October 2006):
Our theology as a springboard to growth.
The Gettin' Place (September 2006):
Each of us has a "Gettin' Place" . . . a place each of us knows, intuitively, we can go to, whenever we needed help, comfort or a breakthrough idea.
The Vat (June 2006):
You can see humans as vats, born full, but whose innate goodness leaks out as they age.
In The Zone (May 2006):
Athletes have a sweet time when they are "In the Zone". We can too.
Prayer for those of the Right and the Left (April 2006):
A prayer seeking forgiveness from both sides of the aisle, and for those on both sides.
Mistakes (March 2006):
Spiritual lessons from Hopalong Cassidy.
Receiving as Giving (February 2006):
Thoughts on deepening of our ability to give and receive love.
Ethical Holiday Consumption (December 2005):
Ways to make Christmas more spiritual and less commercial.
That "Gratitude" Time of Year (November 2005):
Giving Thanks at Thanksgiving.
Journaling (October 2005):
Many people attest to the great benefits of journaling . . . as a general practice, but especially for working through problems.
Unconditional Love (September 2005):
The value of unconditional love, and how it differs from other kinds of love.
Speak Up! (June 2005):
Reflections on public silence during the Holocaust.
The Pause That Refreshes . . . (May 2005):
Where and when to count to ten.
Generativity (April 2005):
Generativity is the term, generally attributed to psychologist Erik Erikson, to describe his Stage 7 development (in his 8 stages of a "life well lived"). It is "the care for the future world" that typically develops in mid-adulthood.
Our Capacity to Grow and Change (March 2005):
Some thoughts on what our being "active seekers of truth" implies.
Happy Valentine's Day! (February 2005):
Getting "foppy" but finding some spiritual insight from the holiday anyway.
Happy New Year! (January 2005):
Looking both ways as the old year ends and the new one begins.
Reconciliation (December 2004):
How we can help heal the wounds this election wrought. (2 of 2).
Reconciliation (November 2004):
How we can help heal the wounds this election wrought. (1 of 2).
Stimulating Our Untapped Creativity (Sept 2004):
Each of us has inherent creativity, lying dormant, untapped - - awaiting our "inspiration and perspiration."
Gratitude (June 2004):
The oil in our spiritual machinery.

Questions about Unitarian Universalism? Ask Rick Childs,

Questions about our web site? Ask Ted Pack: